Introduction by Mark Waldrep, Ph.D.
Welcome to Music and Audio: A User Guide To Better Sound.
I decided to write this book because I discovered a lot of the information I read in the usual audio magazines and on their online versions didn't ring true with what I've learned throughout my 40 years as an electronics technician, musician, music lover, audio engineer, record producer, and computer programmer. As a musician, composer, recording engineer and producer of high-resolution audio recordings, I know what great fidelity sounds like and I know what it takes to produce fabulous sounding tracks (the Blu-ray disc that accompanies this book or the high-resolution files represent some of the best sounding tracks on the planet!). And I know what it takes with regards to hardware and software to bring your music listening experiences up a few notches.
Music is the most popular art form in the world. It's heard in public places, in retail stores while you're shopping, in performance venues large and small, in your automobile, at home, in the privacy of your own head, and as underscore to films, television shows, and YouTube videos. Music fans, casual listeners, and audiophiles alike enjoy playing their favorite tunes at home, in their cars, and through the latest portable digital music players. Music is the soundtrack of our lives.
Book Information
ISBN: 978-0-9973566-0-1
Paperback: 880 pages
Digital eBook: 880 pages with color illustrations
Published: January 21, 2018
Available in: English
Edition: First Edition
Publisher: AIX Publishing
The Author
Author, Musician, Composer, Audio Engineer, Record Producer, Designer & Computer Scientist"Mark Waldrep Knows What He's Doing?" Andrew Quint TAS
Mark Waldrep, Ph.D. is the founder, president and chief engineer at AIX Records, a specialty high-end, Los Angeles-based record company founded in 2000. He has been a regular columnist for eMedia magazine, written extensively on audio production and new media, been featured several times in the recording industry's standard periodical MIX magazine, interviewed by CNN, and given the keynote at the AES (Audio Engineering Society) conference in Bogota, Columbia. Mark has been featured as a speaker or panelist at numerous audiophile shows, been a member of the Audio Board of the CTA/CEA, and is an active member of The Recording Academy (NARAS) and the Audio Engineering Society (AES). Mark has been on the faculty of CSU Dominguez Hills in Southern California for over 20 years where he heads the university's Audio Recording program. The Absolute Sound magazine, a highly regarded high-end audio magazine, profiled Dr. Waldrep in December of 2012 titled Mark Waldrep Knows What He's Doing, which praised his work on high-end recording and the contributions he's made toward improving fidelity.
Purchase Music and Audio: A User Guide To Better Sound NOW!
The Gold Standard reference book for ALL audiophiles
Excerpt by Mark Waldrep
"Can you trust the writers, reviewers, and editors to provide unbiased and truthful information about high-fidelity components, speakers, amplifiers, cables, and audio accessories?"
Hooking It All Together - Cables - 16.0 Introduction
Every audio system makes use of cables or wires. There are cables inside of your speakers, turntables, optical disc players, and every other component in your system. And there are other cables that are used to connect the various components in your setup. These include speaker cables, line level interconnects, and digital cables. All of them are designed and optimized to do a specific job depending on what they connect. But audio cables of any type present a tremendous challenge to dedicated music enthusiasts. Why? Because there is so much misinformation, hype, and exaggeration associated with them.
This chapter is intended to clarify some of the confusion about cables. I can assure you that it is not necessary to spend a small fortune on "so-called" high-end designer cables to enhance the sound of your system. I've built several professional recording studios, put together countless demonstration rooms, and assembled a fair number of home entertainment systems in my career and never spent crazy money on interconnects, speaker, or digital cables. Anyone that tells you your system will dramatically improve with a $1000 USB cable likely has a financial interest in your believing that.
In the early months of 2016, I was involved in what's been dubbed "Cablegate". I discovered that a promotional video posted to YouTube purporting to show the increased sonic benefits of increasingly expensive HDMI cables made by AudioQuest, one of many high-end cable manufacturers. The retailer responsible for shooting and posting the video (Home Entertainment by D-Tronics in Texas) featured an employee of AudioQuest discussing the merits of "long grain copper," special insulation materials, and "directional signal flow." As he swapped out various "grades" of HDMI cables, the sound coming from my simple computer speakers dramatically improved. As the price of the cable increased, so did the amplitude and high-frequency content of the demonstration audio. The improvement was "unbelievable" in the words of the company CEO — and it shouldn't have been. Any reasonably knowledgeable person involved in the audio business should have known that an HDMI cable carrying a digital audio signal could not affect the signal in that way. I needed to investigate the claims.
I pulled the video down from the YouTube site, extracted the audio, and analyzed the various audio presentations as delivered by 5-6 AudioQuest HDMI digital cables and a bargain priced Binary branded cable. The prices of these cables ranged from $5 to $1000 for 1-meter. Guess which one produced the best sound? You guessed it. The most expensive one was the loudest and had the widest frequency response. BTW My results were confirmed by several other independent parties — someone deliberately "juiced" the audio segments used in the video.
Here's the original article that I wrote for my blog. It is by far the most read article I have ever authored with over 31,000 views.
The Book
Chapter 1 – About the Blu-ray
Chapter 2 – Introduction
Chapter 3 – What is Fidelity?
Chapter 4 – What is High-End Audio?
Chapter 5 – Music Fundamentals
Chapter 6 – Audio Fundamentals
Chapter 7 – Pulse Code Modulation
Chapter 8 – Direct Streaming Digital
Chapter 9 – Music Production Techniques
Chapter 10 – Music Formats
Chapter 11 – Provenance, Definitions and More
Chapter 12 – Acoustics, Rooms and Speaker Location
Chapter 13 – Source Components
Chapter 14 – Preamplifiers, AV Receivers and Amps
Chapter 15 – Speakers and Headphones
Chapter 16 – Hooking It All Together – Cables
Chapter 17 – Multichannel Audio
Chapter 18 – MQA – A Solution…To What?
Chapter 19 – Tips, Tricks and Treachery
Chapter 20 – Meet The Experts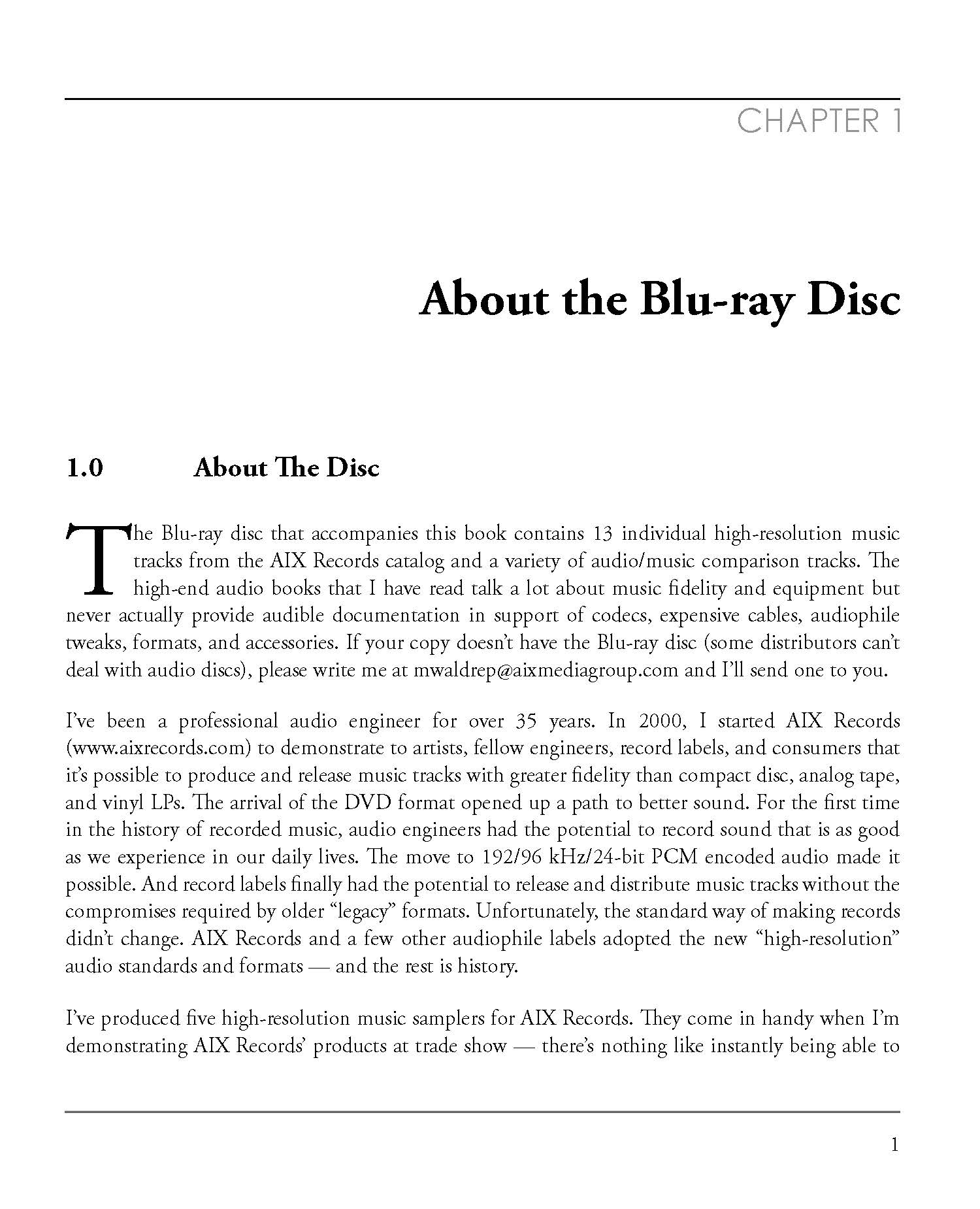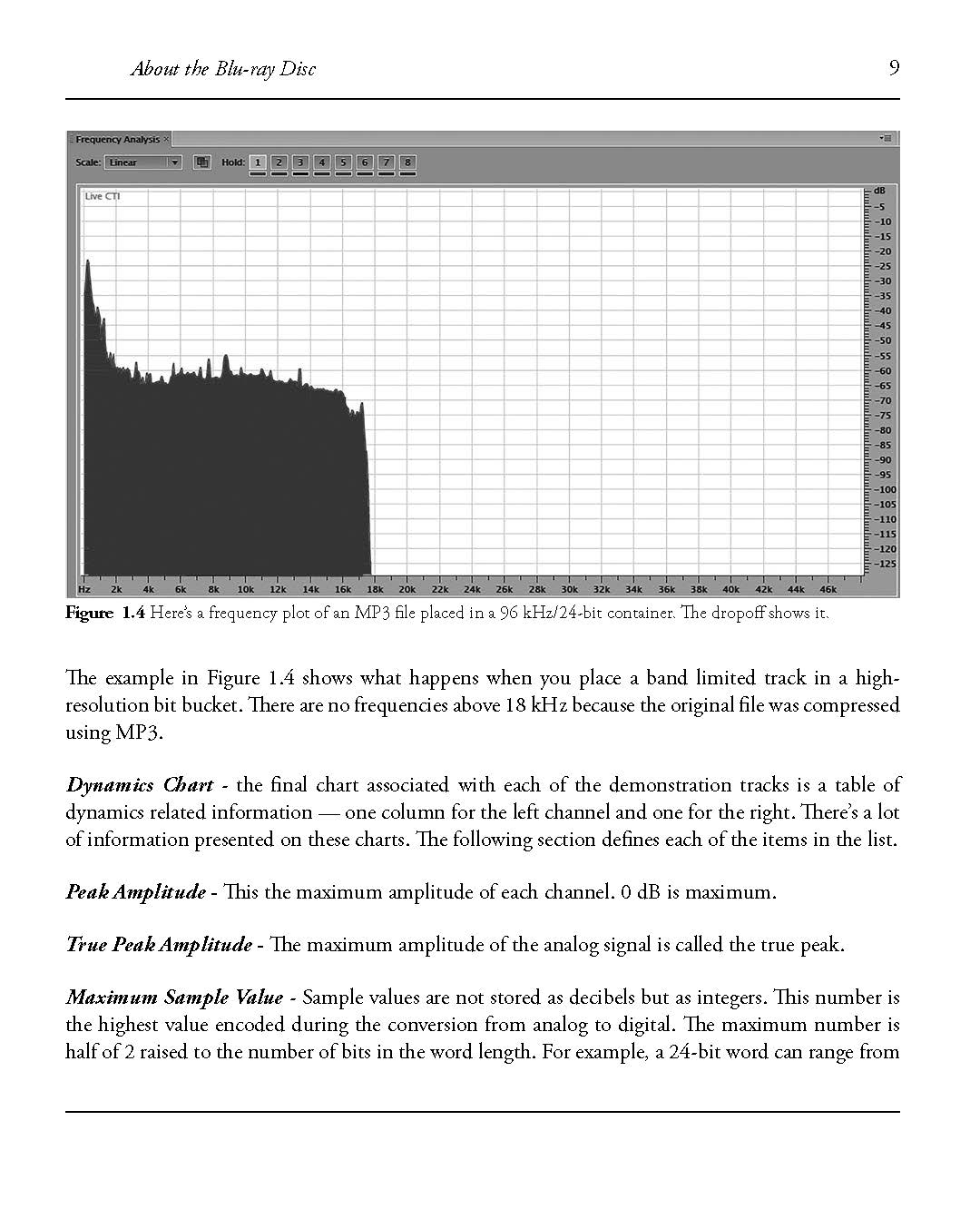 The Disc
High-Resolution Music Examples
Let Them In – John Gorka
Is It Only Me – Hanna-McEuen
We Just Disagree – Dave Mason
My Boy Lollipop – Alana Davis and Ernest Ranglin
Lulu's Back In Town – Steve March Tormé
Mujaka – The Latin Jazz Trio
All The Things You Are – James Walker and Free Flight
Guitar Noir – Laurence Juber
Shostakovich – Piano Quintet Op. 57 Prelude – Chamber Music Palisades
It Was A Lover and His Lass – Zephyr Voices Unbound
Mozart- Overture to the Marriage of Figaro – G Enescu Phil
The Firebird Suite – Finale – G Enescu Phil
Format Comparisons
Mastering Comparison
Mixing Perspectives
Test Tones
Interviews with some of the leading names is audio and music…
Meet the Experts
When I first conceived of writing this book, I knew that I needed to include a few additional voices besides my own. I've spent a lifetime learning the craft and art of audio engineering, producing high-resolution music albums, and teaching the next generation of recording professionals, but recognize I have shortcomings. I know a lot but I don't know everything. Thankfully, I have many close friends in the industry and adding their expertise to this book was critically important.
I'm so pleased that industry luminaries such as Robert Stuart of Meridian and MQA, Andreas Koch of Playback Designs, Richard Schram of Parasound Products, John Siau of Benchmark Media, Brian Lucey of Magic Garden Mastering, Gavin Lurssen of Gavin Lurssen Mastering, Sam Berkow of SIA Acoustics, Bob Hodas of Bob Hodas Acoustic Analysis, Ken Caillat, Grammy-winning engineer and producer of Fleetwood Mac, Robert Margouleff, Grammy-winning engineer for Stevie Wonder, Jonathan Reichbach of Sonic Studio/Amarra, and John Keane, musician, producer, and Emmy-nominated composer for television and film contributed diverse points of view, expertise, and their knowledge to this effort. From Grammy-winning producers and engineers, analog/digital design gurus, high-end audio company presidents, acoustics experts, an Emmy-nominated composer, and a software programmer, this select group has a wide range of experience and knowledge. I may not agree with everything they've said, but I certainly respect their perspectives and dedication to high quality audio.
Sam Berkow - SIA Acoustics
Mark, Congrats on the book. I have read great reviews. Well Deserved! Looking forward to a great read!
Ken Caillat - Eng./Producer
That is one heavy book! After "Making Rumours", I appreciate the effort that went into putting this together.
Richard Schram - Parasound
I don't know of another book that covers this much ground or makes the content so accessible (nice going, Professor)